Oct 06, 2010
-Hybridization and consolidation for urine test devices-
The World's First Fully Automatic & Integrated Urine Analysis Device: a joint development with Sysmex
ARKRAY, Inc. (Head Office: Kyoto City, President and CEO: Shigeru Doi, herein 'ARKRAY') and Sysmex Corporation (Head Office Kobe City, President and CEO: Hisashi Ietsugu, herein'Sysmex') have completed the joint development of a new product that combines both companies strengths and is aimed at the expansion of share in the urine testing market. This product is the world's first fully automatic and integrated urine analyzer hybridizing qualitative urine testing technology from ARKRAY and formed element urine analysis technology from Sysmex and constituting a revolution in the overall urine testing field.
Urine testing is one kind of general test performed to ascertain an individual's level of health. This largely consists of Qualitative Urine Testing*1) - analyzing the presence/absence of protein, sugar and blood in urine and Urine Sediment Testing*2) the analysis of fixed form elements such as blood and other cells in urine for further, more detailed analysis. So to perform urine testing, two analyzers- one for qualitative and one for sediment testing- have traditionally been required.
ARKRAY has been moving ahead with the hybridization of test devices. ARKRAY has already developed a device for the measurement of both HbA1c and blood glucose- both important test parameters in diabetes testing- the ADAMS Hybrid AH-8280. In our second hybrid, the major urine testing elements of qualitative urine testing and urine sediment testing have been combined into a single device as part of a joint development with Sysmex.
In the past, ARKRAY and Sysmex have worked together on the development of transport systems for connection to their analyzers as part of providing solutions to their customers. For this project, ARKRAY took the lead on hardware design while Sysmex focused on the sediment unit and operability software. The finished integrated urine analyzer results in a 25% reduction in the device footprint compared to traditional transport system setups as well as rapid decision-making through the test results list format. It is also possible to measure 100-200 samples per hour automatically thus improving workflow in the lab.
Sales in Japan will begin in December 2010 and will be expanded to cover all global territories. Sales will take place under each company's brand.
Main product features
*Qualitative Urine Testing & Urine Sediment
Testing integrated into one device.
Simultaneous measurement of the main tests with a single device, answering the need for streamlining.
*Reduction of device footprint by 25%
A compact device allowing effective use of lab space.
*Rapid judgment now possible
Display of Qualitative Urine Testing and Urine Sediment Testing results together, allowing swift decision making.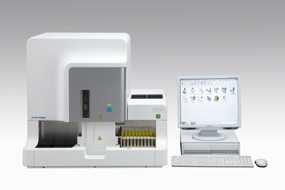 The fully-automatic & Integrated Urine Analyzer: Aution Hybrid AU-4050
Explanation of terminology
*1)This allows the investigation of infectious diseases (bladder inflammation etc), stone formation (in the urinary tract) and kidney function (kidney failure etc).It includes visual testing where test strips are dipped in urine during standard health checks.
*2)Urine is centrifuged before investigation of the presence or increase in sediment particles for the diagnosis of kidney problems or continuous monitoring of symptoms.
DevelopCment background
In 1972, ARKRAY succeeded in developing the world's first automatic urine analyzer. In the nearly 40 years since then, ARKRAY has been a pioneer in the qualitative urine test market. Sysmex develops and markets devices for the fully-automatic analysis of formed elements in urine using their own proprietary method and has obtained the number one share in the global urine sediment testing field.
Product overview
Name

Fully automatic Integrated Urine Analyzer: Aution Hybrid AU-4050

Target territories

All territories

Release date

Sales in Japan due to begin in December 2010 *sales in other territories to follow

Features

1. Processing speed of 100-200 tests per hour*3)
2. Qualitative urine testing and sediment testing in a single instrument
3. Cross-check function incorporated *4)
4. Reflex test function*5)
*3) Variation may occur when performing simultaneous urine sedimentation testing.
*4) Cross-checking of results where similar test items are measured for both qualitative and sediment analyses.
*5) Function for the automatic selection of sediment analysis based on qualitative measurement results.
Sysmex Company Outline
| | |
| --- | --- |
| (1) Company name | Sysmex Corporation |
| (2) Main business: | Development, manufacture, sales, import and export of diagnostics testing instruments, reagents, and related software. |
| (3) Head Office | 1-5-1, Wakinohama-kaigandori, Chuo-ku, Kobe, Hyogo 651-0073, Japan. |
| (4) President & CEO | Hisashi Ietsugu |
| (5) Number of employees | 4,708 (group total as of end August 2010) |
| (6) Export destinations | Over 160 countries worldwide |
These products will go on sale via ARKRAY's Japanese domestic sales company, ARKRAY Marketing, Inc.