Dec 22, 2011
Much faster times for testing of toxic metals in urine
Announcement of research results at the 2011 US Anti-ageing Conference
ARKRAY, Inc. (Nakagyo Ward, Kyoto), a manufacturer of clinical testing devices and in vitro diagnostics, has developed a method for the simple measurement of mercury in urine. This research achievement was announced at the 2011 U.S. Anti Aging Conference1) held in Las Vegas between 8 and 10 December 2011. This development represents a significant reduction in testing time needed as part of the treatment for and removal of toxic metals from the body, and many doctors from anti-aging clinics2) have been showing interest.
In recent years, chronic illnesses caused by the absorption of toxic metals have become an increasing problem. At the same time, anti-aging clinics have been focusing on maintaining both beauty and health and are conducting treatment for removal of toxins, such a toxic metals, from the body. Within these treatments detox3) is perhaps most well known. To determine the effectiveness of treatment for toxic metals, the measurement of heavy metals in urine is the main form of testing, but in the US, these tests require the sending of urine samples to specialist laboratories and results can take over a week to be returned.
At the recent U.S. Anti-aging Conference, ARKRAY, Inc. announced its findings into research surrounding a simple method for measuring mercury in urine. If applied to clinics, this measurement method will allow the measuring of patient urine on site, and the previous time needed to obtain results will be shortened from one week to just one hour. Roughly 200 people, mainly doctors, visited the ARKRAY booth at the conference and showed great interest in the research.
This urine mercury measurement method is not aimed solely at the anti-aging field and has useful applications in both traditional medical testing and for the determination of the effects from functional dietary supplements. ARKRAY continues to apply its experience with clinical testing system technology to expand into and find synergy with new business fields within health science.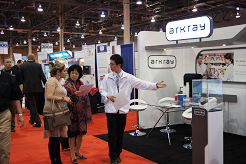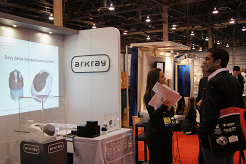 The ARKRAY booth at the Anti-aging conference 2011
Details of research announcement
ARKRAY, Inc. announced its research achievements relating to the simple measurement of toxic metals in urine at the U.S Anti-aging Conference held in Las Vegas between 8 and 10 December 2011. ARKRAY has been working on this project with Professor Yuzuru Takamura from the Japan Advanced Institute of Science and Technology (JAIST), Micro Emission Ltd. and Dr. Masashi Uwabu from the Ginza Uwabu Medical Clinic.
Future developments
The first aim is to commercialize the simple urine mercury testing system announced for clinics.
In addition, ARKRAY aims to increase its measurement item lineup to include other toxic metals, such as lead, cadmium and arsenic. Other considerations include the development of detox supplements and determination of their effect. By doing this,expansion into markets other than anti-aging clinics is also expected.
Terminology
1) American Academy of Anti-aging Medicine
The American Academy of Anti-Aging Medicine (A4M) was established in 1992.
It has 22,000 members across 105 countries and held its 19th annual conference in Las Vegas between 8 and 12 December 2011. There were approximately 5000 visitors and 300 companies took part. Main groups in attendance were doctors, nurses, pharmacists as well as other medical professionals in addition to manufacturers of supplements and medical devices.
2) Anti-aging clinics
These are clinics providing treatment aimed at anti-aging. They provide detoxification, skin treatments, hormone therapies and many other kinds of care. Increasing numbers of people are very interested in their health and are visiting these clinics to maintain their condition and reduce the negative effects associated with aging.
3) Detoxification
This is recovery from chronic health problems and health maintenance through the removal of toxins from the body. Specifically, this includes chelation therapy (for toxic metals), supplements and exercise treatment.