May 17, 2012
A useful application that makes full use of superb smart phone functionality and supports diabetes patients
Smart e-SMBG (Android β) released
ARKRAY, Inc. (Headquarters: Kyoto City, Nakagyo Ward), a manufacturer of sample test instruments and in vitro diagnostic reagents, will release a diabetes management application, the
Smart e-SMBG (Android β)
for use on smart phones on 17 May. This easy-to-operate and useful diabetes management application will be distributed free of charge and will help to support diabetes patients.
With the rapid popularization of smartphones and the great functionality that comes with them (compared with traditional cell phones), highly functional application software can now be used on them in a similar manner as with PCs.
The Smart e-SMBG (Android β) due for release through ARKRAY, makes use of this functionality in the form of a diabetes management application for smart phones. In contrast with traditional diabetes management software, this software makes full use of the functionality that smart phones offer. With a menu offering diabetes management, meal logs, management of vitals and other useful options, this application can be used by any diabetics with access to smart phones (using Android). This is a beta version of the software (although close to the final version) and is being offered free of charge.
With its diabetes related products, ARKRAY hopes to encourage users to focus on their blood glucose. This message comes with the hope that patients can use their diabetes test results to manage their diabetes and improve their quality of life. ARKRAY is currently working on the development of diabetes data management system for use on tablet PCs for use in medical facilities. In this way, we are working to strengthen our product portfolio and offer solutions for diabetes management and improved QOL that answer the needs of patients and medical staff.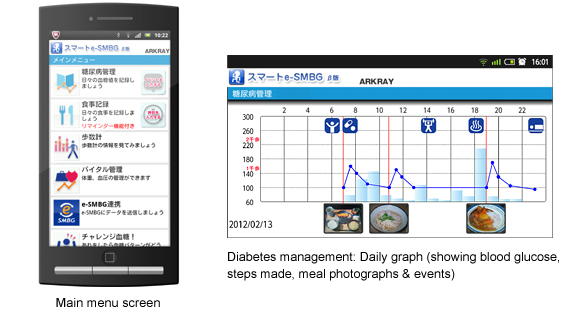 Main features of the Smart e-SMBG (Android β)
●Visualization of your blood glucose
Understand how your blood glucose levels change and are linked with your meals at a glance allowing intuitive review of your daily activities
●Easy recording on your smart phone
Simply input and checking anytime and anywhere makes it easier to make lifestyle improvements.
●Unique diabetes application tools
Weight, blood pressure, meal size, step counter, carbohydrate-counter and eye checks help to support patient management of their diabetes.
●Link to e-SMBG*
Inputted data is linked to e-SMBG and can be shared with 3rd parties via a cloud server.
●Menu list
• Diabetes Management: allows input and display of blood glucose values, meals, insulin and other events.
• Management of Vitals: displays records of vital data (weight, blood pressure)
• Challenge Your Blood Glucose: by measuring and plotting your blood glucose at before and 30, 60 and 90 minutes after meals, you can see how your blood glucose pattern changes according to what you eat and exercise.
• Carbohydrate-counter
• Meal log
• Pedometer
• Link to e-SMBG
• Foot viewer
• Eye test
• Feeling checker
• Weight checker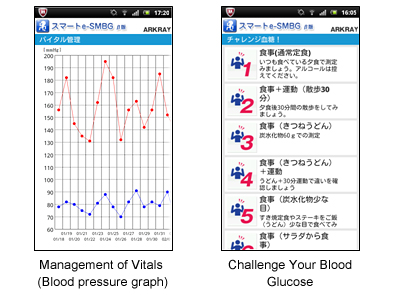 * What is e-SMBG
Diabetes Management e-SMBG is an internet based service for the management of diabetes related data.
With this, you can input and manage your blood glucose and HbA1c values, weight, and other diabetes management data. This is then displayed in simple graph formats making it easier to check your data. There are no registration, monthly or user fees for its use.
Product outline
1. Name

Smart phone e-SMBG (Android β)

2. Release date

17 May 2012 (Thursday)

3. Required OS spec.

Smart phone requirements are shown below:
Android Ver.2.3.3 or later recommended; Operable with Ver.2.1 or later. Functional restrictions may apply.

4. How to obtain the app.

Download from Google Play Store.
*Access the URL http://e-smbg.net/smart and jump to the Google Play Store to download.

5.Price

Free of charge