Jun 28, 2012
Supporting a rising star on the athletics track:

Kana Ichikawa from Chukyo University
ARKRAY, Inc., (Headquarters: Kyoto City, Nakagyo Ward) a manufacturer of sample test instruments and
in vitro
diagnostic reagents has chosen to support Chukyo University's
Kana Ichikawa
, a rising star in short distance athletics. ARKRAY supports the well-known Ms. Ichikawa and her training as part of physiological research into lactate measurement and will work to promote messages from her.
Profile of Kana Ichikawa: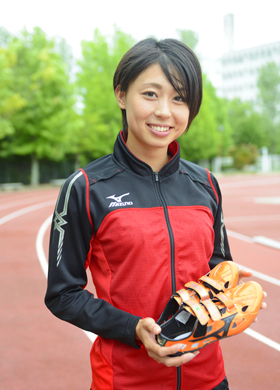 Kana Ichikawa
Born 14 January 1991 (21 years old)
From Toyota City in Aichi Prefecture
Honan JHS - Okazakijo Seinan HS - Chukyo Univ.

Main achievements
2010
*World Junior Athletics Championships:
First ever Japanese finalist in the Women's 200m
2011
*Seiko Golden Grand Prix Kawasaki:
Japan national record, running 4th in the Japan A-team in the 4x100m relay with a time of 43sec 39 *Japan National Athletic Championships
2nd place in the 100m and 200m
2012
*Japan National Athletic Championships
2nd place in the 200m
Ms. Ichikawa first began short distance athletics in Junior High School eventually taking part in the Inter-High School championships. After entering Chukyo University, she began her meteoric rise as a sprinter under the direction of her coach, Shinji Aoto in the Athletics Department. She has been receiving growing attention as a rising star in Japanese athletic and her performance has earned her a high level of fame and popularity.
ARKRAY has signed an agreement with Ms. Ichikawa and will support her physiological training through the use of blood lactate measurement. ARKRAY has also set up a web site, Facebook page and magazines on the topic of athletics and training.
Supporting Ms. Ichikawa's training
ARKRAY will offer physiological support Ms. Ichikawa and her training through the use of lactate measurement.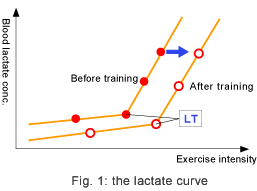 Training using lactate measurement
Scientific training is performed in athletics, swimming and soccer using blood lactate measurement. Blood lactate rises in line with the intensity of exercise, eventually reaching a point where it spikes. This point level of exercise is known as the Lactate Threshold (LT) while the relationship between exercise intensity and blood lactate concentration is known as the Lactate curve (see fig. 1). The effectiveness of training can be seen by comparing the LT and lactate curve before and after training. By measuring this and daily blood lactate concentrations, you can check that the training you are doing matches your training goals.
Messages from Kana Ichikawa
1. Lactate measurement support site
ARKRAY will use this site to introduce Ms. Ichikawa and the use of lactate measurement.
URL:http://biz.arkray.co.jp/lact Renewed on 28 June
2. A Kana Ichikawa Facebook page
This will show regular images of Ms. Ichikawa's training and messages from her.
URL: http://www.facebook.com/kana.arkray accessible from 28 June
3. Magazine advertisements
From July, these will cover promotions by Ms. Ichikawa related to both athletics and training.