Sep 25, 2014
- Development of Innovative Biosensing System for Diabetes Care Utilizing Space Environment -


Participation in the High Quality Protein Crystal Growth Experiment at "Kibo" in the International Space Station

Dr. Koji Sode, Professor of the Department of Biotechnology & Life Science, the Graduate School of Engineering at the Tokyo University of Agriculture & Technology, and ARKRAY, Inc. (Kyoto), a manufacturer of clinical testing devices and reagents are going to participate in the project to be performed in the microgravity environment in "Kibo", the Japanese Experiment Module at the International Space Station*1. This project was planned by Japan Aerospace Exploration Agency (JAXA) and is called "JAXA PCG (Protein Crystal Growth)"*2. In this experiment, we will try to analyze the protein structure that is indispensable for the development of biosensing technology*3 and aim at its application for the innovative Biosensing system that will be helpful for the treatment and diagnosis of diabetes. This will be the world's first development of a Biosensing system dedicating for diabetes care utilizing the space environment.

Update: The research group consisting of Dr. Koji Sode, Professor of the Department of Biotechnology & Life Science, the Graduate School of Engineering at Tokyo University of Agriculture & Technology, and ARKRAY, Inc., has been engaged in the research cooperation on the project about the protein molecules inevitable for the development of biosensing technology. The protein developed by the research group was selected as one of the industrial enzyme proteins that will be subjected for the second experiment in the second phase of "JAXA PCG" experiment series. Our protein will be loaded on Soyuz that is scheduled to be launched on September 26.

Research system: The research group of Prof. Koji Sode of the Department of Biotechnology & Life Science of the Graduate School of Engineering of Tokyo University of Agriculture & Technology, visiting associate professors, Associate Prof. Hiromi Yoshida of the Division of Structural Biology of the Kagawa University Life Science Research Center, ARKRAY, Inc. and JAXA who have been considering the development of a preparation method and crystallization conditions for high purity protein samples that are essential in the development of biosensing technology will perform the test.

Goal of research: It is expected that protein function structure/function relationship will be understood by performing detailed structure analysis using protein crystal that is prepared under microgravity environment of space. The results can be acknowledged for the development of biosensing technology. We aim to develop the innovative Biosensing system that will contribute to the treatment of diabetes, improvement of patients' quality of life and prevention of diseases.

Future plan:
Participation in the second experiment in the second phase of "JAXA PCG"
Launch date : September 26, 2014 (Japan time, local time)
Launch location : Baikonur Cosmodrome, Kazakhstan
Target return date : November 10, 2014
Landing spot : Kazakhstan
Return vehicle : Soyuz

"Kibo" (Japanese Experiment Module, JAXA/NASA)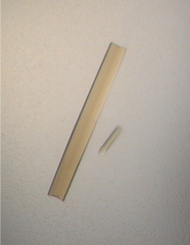 Protein crystals obtained on earth
Better crystals are expected to be obtained under microgravity environment than on earth.
(Source: Prof. Hiromi Yoshida, Kagawa University)
*1 Kibo (official name; The Japanese Experiment Module (JEM)) is Japan's first human-rated space facility and the Japan Aerospace Exploration Agency's (JAXA's) first contribution to the International Space Station (ISS) program. Kibo was designed and developed with a view to conducting scientific research activities on orbit. Currently, wide variety of scientific, medical, and educational experiments are conducted on Kibo. As a part of the ISS, Kibo provides extensive opportunities for space environment utilization.
*2 The High Quality Protein Crystal Growth Experiment (JAXA PCG) is conducted at "Kibo", aiming at the growth of crystals of biological macromolecules. The main scientific objective of the JAXA PCG experiment is to make high quality protein crystals under microgravity environment. Protein crystallization experiments have been performed in space for more than 20 years. In this experiment, more than 300 protein samples are launched and high quality crystals successfully grown from about 80 percent of them. Detailed analysis of high quality protein crystal structures is useful in designing new pharmaceuticals and catalysts for a wide range of industries.
http://iss.jaxa.jp/en/
*3 Biosensing technology is defined as the novel technology for detection and measurement of biological systems to the integration of biological systems into novel sensing technology. A variety of Biosensing technology relating research projects are being carried out at the Department of Biotechnology & Life Science, Graduate School of Engineering, Tokyo University of Agriculture & Technology (Department of Biotechnology and Life science, Department of Biotechnology of the Faculty of Technology) in collaboration with industrial partners.