Nov 11, 2014
Branded Message-Based Artwork Will Be Released on
World Diabetes Day
Life as Art: ARKRAY's Kyoto Station Project

Clinical testing device and reagent manufacturer ARKRAY, Inc. is launching "Life as Art: ARKRAY's Kyoto Station Project" on World Diabetes Day.
Through our collaboration with the world-renowned papercut artist Rob Ryan, ARKRAY's corporate message, "Inochi · Kagayaku · Kagaku" is now expressed in an original artwork. A dedicated website will be launched on November 14*1 and the 11 m x 2.7 m artwork will be exhibited above JR Kyoto Station's main concourse starting November 15.
PROJECT OVERVIEW
Kyoto is an international tourist destination that attracts people from Japan and from all over the world. As an initiative unique to ARKRAY originating from Kyoto with its corporate message of "Inochi · Kagayaku · Kagaku." the company aims to "heal the hearts of the many people visiting Kyoto with gentle art" through "Life as Art: ARKRAY's Kyoto Station Project."
"Life as Art: ARKRAY's Kyoto Station Project" is a project that features a dedicated website to be launched on November 14*1 which introduces this project and the artist Rob Ryan while also hosting videos about the making of the artwork in Ryan's London studio and communicating the artist's message infused in the work. The project culminates in the public exhibition of the artwork at Kyoto Station starting November 15. The project also features distribution of original promotional products designed from themes found within the artwork and introduction of the project in medical conferences and seminars as part of ongoing marketing efforts. (There are currently no plans to distribute original merchandise to the general public.)
DEDICATED WEBSITE URL:https://www.arkray.co.jp/art/index_en.html (Viewable from November 14)
ABOUT THE ARTWORK
"Inochi · Kagayaku · Kagaku" - They represent ARKRAY's desire to work for the "good of human life," its commitment to "make the world a bright and happy place for everyone," and its "pursuit of science to benefit humankind." Searching for the best artistic expression for our corporate message over a gateway to the world that represents the best of Japan, we settled on the monumental papercut design by Rob Ryan, a renowned British papercut artist. We explained to Rob the thinking behind ARKRAY's message, and he turned what he heard into a remarkable piece of papercut art. All elements are connected in this artwork that has been cut out from a single piece of paper, gently expressing the bond among people and the connection that links humans, trees and towns, with clean air and living things.
Rob, also a poet, included the following words in his work:
"And when the flowers returned again and again year after year, our belief in the goodness of people was renewed."
Rob's artwork portrays ARKRAY's passionate sentiment on life, and makes us feel warmth and reverence for every manifestation of life around us.
*1 THE EXHIBITION DATE
November 14 was designated as World Diabetes Day in 2006 by the International Diabetes Federation (IDF) and the World Health Organization (WHO) at the 61st Session of the United Nations General Assembly in 2006. As a campaign to suppress diabetes, buildings and monuments all over Japan and the world will be bathed in blue light, the symbolic color for the fight against diabetes. Various sites in Kyoto will be washed in blue light that evening, including Nijo Castle and the five-storied pagoda at Toji. As a company with deep connections to diabetes testing and self-monitoring devices for blood glucose, ARKRAY is launching this project in line with this symbolic date.
ARTIST PROFILE: ROB RYAN
Born 1962 in Cyprus, currently residing in London. Studied art at Trent Polytechnic and the Royal College of Art in the UK. Began production of artworks using papercut techniques in 2002 and has exhibited widely in many galleries and art museums. He has provided artwork for leading UK brands such as Paul Smith and Fortnum & Mason, and has also appeared in Vogue and other fashion magazines. He has achieved high renown in the US as well, including in New York, a city with profound affiliations with art, where his work was exhibited for one year in the lower level of Grand Central Station starting in September 2013 as part of the commemoration of its 100th anniversary. His work is also deeply connected to the theme of 'life' with artworks exhibited in the reception and waiting room of London's University College Hospital Macmillan Cancer Centre. He has also donated work to many charity events held by various medical organizations as well as to the Japanese Red Cross Society in the wake of the Great East Japan Earthquake Disaster. In his artistic universe, vibrant vitality is found amongst gentle kindness leaving a lasting impression of Rob's view on life.
<Related Photos>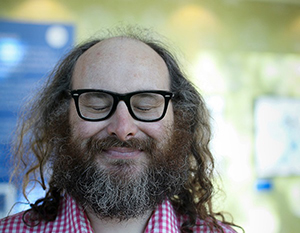 Rob Ryan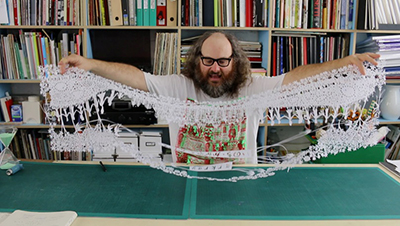 All elements are connected in this message-based papercut artwork.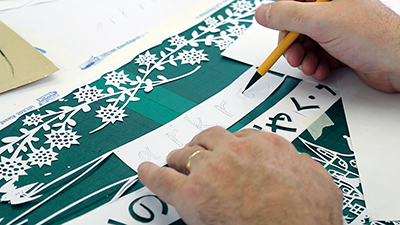 The message and company name being drawn and cut out by Rob Ryan.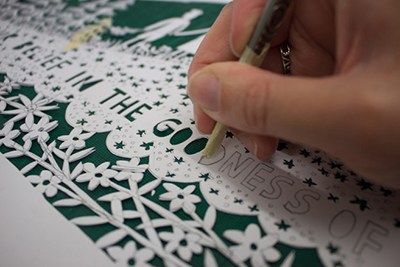 The artwork is cut out with careful attention using a surgical scalpel
with the blade wrapped in tape to protect the fingers.